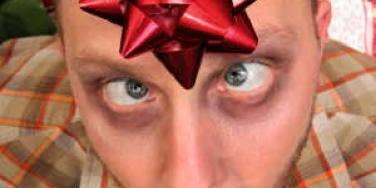 Can you top these bad gifts?
You think you've gotten a bad gift? You'll think twice about exchanging your present—or your partner!—after seeing some of the awful gifts women have actually received from the men in their lives. We polled women in New York City's Union Square to see how clueless guys can really be; here are the ten worst.
mom-necklace.jpg
Something Borrowed
Lisa had been dating her boyfriend for a few months when he gave her a beautiful necklace for Christmas. "It was a great gift… until I had to give it back," she said. "He stole it from his mom!" Lisa broke things off shortly after.
YourTango's Take: Jewelry is generally safe, but in this case it's just plain tacky. If you can't keep the goods, don't bother giving 'em!
sexbook.jpg
How (Not) To Please Your (Wo)Man
"I cried of embarrassment when my boyfriend gave me a book of sex tips for my birthday," one woman (who prefers to remain nameless) said. She and her boyfriend had been dating for two years. "I would have tried [the tips] but I felt like he was implying that I needed them. I don't!"
YourTango's Take: Talking about what makes you tick is great, and looking a sex manuals together may strengthen your relationship and enhance your sex life, but sparking this conversation with a passive aggressive book is bound to insult any receiver!
collage.jpg
Self Love
Laura had only been dating a man for a month when he presented her with a collage of pictures as an anniversary gift. "Every picture was of him, alone. It was creepy!" she said.
YourTango's Take: Did the gift come with an altar and a voodoo doll? An ode to oneself is creepy—not to mention vain! A picture of the two of you would have been more appropriate—and dare we say sweet!
Photo: Flickr user Editor B
boxers.jpg
Not-So-Fancy Pants
"A guy I was dating thought it would be sweet to give me an old pair of his boxers for Christmas," Jay said. "I guess he thought it would be like an old t-shirt or something."
YourTango's Take: Nice try, guy. The boyfriend fit may be on-trend and comfy as all hell, but think of this way: you gave your girlfriend used underwear. Oops.
condoms.jpg
Palate-Friendly Protection
When Jasmine peeled back the wrapping on a pack of flavored condoms she'd received from her boyfriend of several months, she called it quits. "It was so inappropriate," she said.
YourTango's Take: While palate-friendly protection may be pleasing in the bedroom, condoms do not a good gift make—unless he'd like a pack of your birth control for his next birthday.
bracelet.jpg
A Premature Promise
Lily was taken aback when she received a promise bracelet from a guy she was dating—for less than two months. "The gift showed that he was very attached," she said, "which I was not."
YourTango's Take: A premature commitment can't—and shouldn't—replace a gift, although it may make the receiver want to replace you!
cuisinart.jpg
Way Too Practical
When Carole found out her husband spent his whole holiday bonus on her Christmas gift, she had high expectations—until she unwrapped her brand new food processor. "If it comes with a plug, it should never be a gift," she said.
Betsey, who had just moved in with her man and received a vacuum cleaner for Hanukkah, agrees. "I used it, but I was hoping for something more romantic," Betsey said.
YourTango's Take: Unless they come from your wedding registry or you're straight outta college and they come from your parents, household appliances do not count as gifts.
neon lights.jpg
Name In Neon
Ashley's boyfriend of a year was history after he presented her with a personalized neon sign for Christmas. "Who wants that?" she asked.
YourTango's Take: He gets credit for a personalized gift and a cool idea, but unless she wanted her bedroom to look like a bar or the Vegas strip this gift is way off base.
ornament.jpg
He's (Not) So Crafty
Katelyn was less than thrilled with her boyfriend of nearly two years when she opened his Christmas gift. "It was a hand-made Christmas ornament made by his sister—who is not an artist."
YourTango's Take: I spy with my little eye a re-gift! Homemade gifts are great… when you make them yourself.
nogift.jpg
No Gift
Women far and wide agree that there's one thing worse than a bad gift: no gift at all.
YourTango's Take: Even if you and your partner agree not to exchange gifts for a holiday, anniversary or birthday, make sure to get a little something, just in case. "No gift" never means "no gift." It actually means "surprise me with something small or feel like an idiot when I surprise you."
Previous
Next
BEGIN