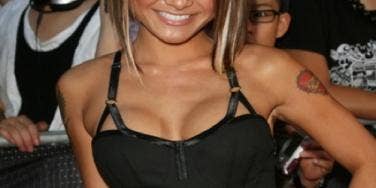 Reality TV star Tila Tequila offers some surprisingly sage dating advice in her new book.
It's easy to write Tila Tequila off as nothing more than a shameless attention whore. She'll admit it. She did, afterall, become a household name due to her alleged bisexuality on MTV's "A Shot With Tila Tequila." She was also Playboy's first Asian cyber girl of the month and managed to accumulate over a million MySpace friends thanks to being synonymous with sex-drenched pictures and raunchy music with singles like "Stripper Friends." Bikinis and all, Tila Tequila was careful never to peddle herself as a brainy, self-marketing genius—but she's easily the most clever bimbo this side of Paris Hilton. Learn more about her inner world with a few choice excerpts from her book, Hooking Up With Tila Tequila.
tilatequila_spl29000_032.jpg
So what's up with this Tila Tequila moniker? "I got the nickname when I was thirteen. Some friends and I snuck out and started taking shots of tequila. I got sooooo sick! That's when I realized I'm allergic to alcohol. All my friends started calling me Tila Tequila."
tilatequila_spl59413_014.jpg
On our culture's sexual hypocrisy: "If was a dude, I would get praised for having a healthy libido and an active sex life. Hell, I'd get a high-five for each and every piece of ass I bagged, guy or girl!"
tilatequila_spl58516_001.jpg
And she gets frustrated with men too: "Sometimes dudes can be sooo aloof. And most of the time, they don't realize half the things they do that piss you off! Give him his space to do his guy things with his friends, or else he will feel like you're taking away his manhood."
tilatequila_spl56936_012.jpg
And now for the surprise of the century. Tila's not easy: "Once you get the one you want, here's the best secret weapon I can give you. Hold off on having sex. If you want to hold on to him in the long run, hold off on sex for as longgggg as possible."
tilatequila_spl48289_084.jpg
Once you've snagged a guy: "It's not cool to be needy. It's best to be independent and do your own thing, while letting the other person know, "Look, I have my own life but I happen to love you, too."
tilatequila_spl47656_002.jpg
She's also sick of women beating up on themselves if they don't look like Gisele. "No matter who you are or what you look like, believe me, there will always be someone out there that is a bazillion times hotter than you! So stop wasting your time feeling insecure about what you don't have, and start being proud of what you do!"
tilatequila_spl45072_023.jpg
Tila wonders, as we all do, why women feel the need to down each other so often. "When I go to a club or party, there is always at least one girl who says something bitchy to me. Guys don't waste their energy talking smack about each other, especially if they don't know the other dude. So my question is, "Why do females have the tendency to hate on each other so much?"
tilatequila_spl44630_010.jpg
But is she above a little, ahem, help? In short, no. "You've just got to be smart about it, ladies. None of this sucking dick for a dollar bullshit. I'm talking about sucking dick for a Bentley. Seriously. Know your worth and make sure you get paid."
tilatequila_spl44630_001.jpg
Tila's take on confidence? "When you're confident, you don't compare yourself to anybody or worry about what they're thinking. You're too busy being kick-ass making your dreams come true. That's confidence, baby."
tilatequila_spl42382_009.jpg
Tila is no stranger to harsh criticism and adversity. But instead of feeling bitter toward her haters she
suggests that if you don't have one to "go hire one." As she says, "They are the driving force behind our success because they make us go, "Oh yeah? I'll show them!"
tilatequila_spl34057_008.jpg
Tila started out with nothing, and credits her lack of independent wealth and connections with her success today. She's a firm believer that "having nothing gives you everything."
tilatequila_spl33702_009.jpg
Tila wasn't about to "wait around" for somebody to discover her. Instead, she made pop culture's radar by sheer determination and years of trial and error. "Was it scary? Fuck yeah! Were there days (and lots of incredibly long nights) during which I wondered when it was going to happen for me? Of course there were. But did I ever doubt that it would happen for me someday? No way!"
Previous
Next
BEGIN