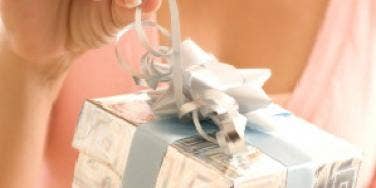 You'll be the ultimate daughter-in-law (or should be) with one of these hostess gifts in hand.
Nothing can strike fear into the most confident of women like a mother-in-law. A close second? A future mother-in-law (FMIL), or even more terrifying, meeting his mom for the first time (contain your shrieks of terror!) as she hosts you for the holidays.
Sure, most FMILs are warm-hearted, apron-donning rays of sunshine. But just in case you need to win her over, here are the perfect hostess (with a twist) gifts. With these in hand, you'll prove you're the one for her son.
candles.jpg
The standard gift: A candle.
Impress her with: A Jo Malone personalized candle or perfume. Gather any shred of information from your boyfriend about her preferences (favorite flowers, time of year, vacation spots, colors, etc.), then log on to jomalone.com and chat live with one of their stylists. They'll point you in the right direction after asking a few questions.
What you say when you present it: "Bob said you love vacationing on Martha's Vineyard. I found a candle that will hopefully bring back some memories, with hints of sea kelp and aged beechwood."
Previous
Next
BEGIN