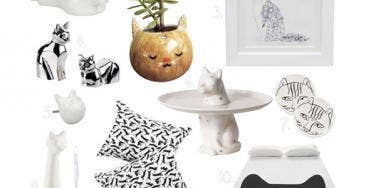 You don't have to be a crazy cat lady to love these feline finds!
When you're a cat person, sometimes having an actual cat in your home just isn't enough. Sometimes you want to make sure that you and any guests you may have (feline or otherwise) know FOR SURE that you have an affinity for kitties. So, if you do love cats, and you want to add some feline flavor to your lair, then this shopping list is for you! In this gallery you'll find 10 excellent items to fill your home with cat power. Even if you're not really a cat person (we are judging you, though), you'll probably think these picks are pretty darn cute anyway.
House Cats!
Check out this slide show to see where you can find each of these excellent kitty-themed items!
Parsley The Cat Night Light
Your cat may be able to see in the dark, but for the rest of us humans, this very pretty night light will prevent trips over said cat in the middle of the night.
Cat Planter
This cute cat planter from Etsy seller Miriam Brugmann is the perfect way to give your *real* pet windowsill company. And if you're a plant killer (don't feel bad), you can fill it with cat food instead. Done and done.
Dust and Silk Cat Giclee Print
Next to all the photos of you and your cat, spice up your walls with something...less literal. This super-cute cat art ought to do the trick! That is, of course, if your actual feline doesn't get too jealous.
Cat Salt and Pepper Shakers
Technically these are only for meal time, but they're so lovely, I might just be tempted to keep them out 24/7.
Ceramic Cat Knob
What better way to open a dresser full of cat sweaters than to pull on a ceramic cat knob? Answer: There is no better way.
Menagerie Cat Plate
An absolute must for the vanity of any proper cat lady. Just imagine delicately plucking cat-themed jewelry off this dish while your real cat watches. It's purrrr-fect. (Sorry, had to.)
Woodland Park Cat Coasters
Tired of your friends leaving rings on your coffee table? I don't blame you! Solve that problem with these cat coasters. They come in a set of four, including two cats and (gasp!) two poodles. Dog and cat lovers unite!
Ceramic Cat Toilet Brush
If you're one of those people who has managed to teach your cat to use the toilet instead of a litter box, God bless you. If you're not, no sweat - just use this cat on your toilet, instead. (I suggest the guest bathroom; it's too much fun to keep to yourself!)
Yours, Mine, and Noir's Pillow Sham Set
Curl up on your couch for a little cat nap with these fabulous black and white cat-print pillows from ModCloth. They're the perfect way to snazzy up a solid sofa, chair, or bed.
Black Cat Duvet
If you have a cat, chances are your kitty loves to snuggle up right next to you in bed. The great thing about duvet covers is that when they get all covered in cat hair, it's a cinch to just throw them in the washer and put 'em right back on your bed. No need for a trip to the dry cleaner!
Previous
Next
BEGIN