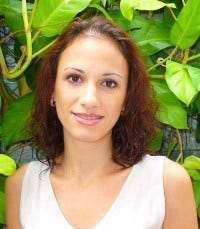 Advanced Member
Sylvia Aguilar
(CPC)
Life Coach
Sylvia has lived in over 25 countries on 5 continents. For years she has worked with aid projects in developing nations. Also a solo artist with several albums, Sylvia speaks English and Japanese, and has mentored and coached people from many countries and cultural backgrounds. As a project manager for STAND in Tanzania, an NGO dedicated to providing free prosthesis for amputees, Sylvia came to know that the greatest of human needs are not only physical, but spiritual and emotional. Her deep love for people and desire to see them make the best of their lives is her driving passion. Her areas of expertise include relationship coaching, health and wellness, women empowerment, and family values.
The Reason I Became A Helping Professional
I grew up as a missionary, constantly traveling and meeting people from different cultures, religions and status. But the one thing I found all had in common is a need for love, significance, security and a sense of belonging. I believe in the infinite value of each human soul, and my desire is to help everyone I come in contact with to know their own worth, and to be confident in the life God has given them–and to use it to its full potential. I want to see others enjoy life to the max, without fear and inhibition, and without procrastination.
"Life should not be a journey to the grave with the intention of arriving in an attractive well preserved body; rather to skid in sideways, body thoroughly worn out, covered in scars and screaming 'Yahoo! What a ride!'"

Sylvia Aguilar
Additional Details

Sylvia Aguilar
Payment Options
Fee Range:
Determined case-by-case, please inquire