like us on facebook If you 'like' us, we'll LOVE you!
We're not saying he's being unfaithful to his betrothed; we're just saying she might not be the one!
Sure it's been four months since Sean Lowe proposed to Catherine Giudici, and their love seems to be stronger than ever, but have you ever thought that she just might not be the one for him? That perhaps you are in fact his soul mate?
Well, we're certainly not going to hope for the demise of anyone's relationship, but if you've ever wondered if you make a better Mrs. Lowe match than Catherine, then these telltale signs might just be the proof:
You've been dreaming of this since Emily Maynard's first episode:
"Save a Horse (Ride a Cowboy)" is your favorite song:
You're a great teacher, and could totally continue the kissing lesson Arie began:
You've always had a thing for the 'big brother' type:
You don't care what anyone says: These are some damn impressive dance moves: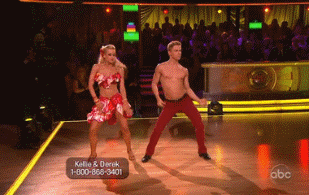 Sorry, Catherine, but he wouldn't want to drown you:
You're actually jealous of this piece of popcorn:
You know way more jokes than the average person, so he'll never stop laughing:
And most importantly, you would never, under any circumstances, do this to his heart—because you're totally here for the right reasons:
More juicy articles from YourTango:
From our Partners