5 Love Lessons From the First Year of Marriage
By bridalguide
By not sharing, I'm not risking the probable situation where he can't even pretend to care, and then I get upset that he's not paying attention to me. As a wife, I understand that what's mine is his (and vice versa), but I know there's certain subjects I'm better off talking to Mom or one of my friends about (that's what they're there for!).
Be Independent
I won't lie and tell you that the past year has been a breeze. As I struggled through a big move to New York City, a heavy course load at grad school and planning a wedding alone, the hardest part of it all was not being able to call my brand-new husband for support. I couldn't share the good stuff, either! I remember holding back tears at the finish line of my first 5K race—I had no one there to greet me—and feeling even more alone and vulnerable after getting mugged outside the front door of my apartment building.
I faced everything alone. As hard as it was, eventually, I got used to it, because I didn't have any other choice. It made me realize that no matter how connected and intertwined we become with our spouse, it's essential to hold on to your own identity and personality. Instead of feeling like you need him in order to succeed, your husband should make you feel strong and capable of taking on the world, even on your own. I don't know if I would have been able to fully learn this, had he never left.
Make Each Moment Special
Sometimes, you just have to work with what you've got. I couldn't get flowers every week or cook him a nice dinner, but I made sure he knew that I was thinking about him by sending a care package full of goodies every month. He did the same by picking up a few things from his long journeys, like a one-of-a-kind lamp trinket from Kuwait or a keychain made from a special rock you can only find in Eastern Afghanistan. We'd send each other messages online and I'd update him with photos, while always trying to keep our conversations upbeat. These little things made a big difference.
It's been an amazing year, and I hope it just keeps getting better. I couldn't have forseen all the happiness that's come our way after getting married. We remind each other often that it was the best decision we ever made, and I'm sure you and your loved one will feel the same. Here's to a lifetime of more anniversaries!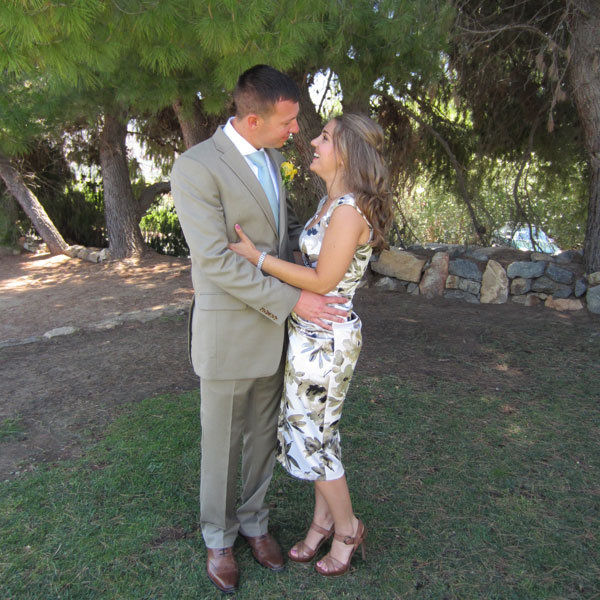 This photo of us was taken in high school. We've come a long way since then.
—Lisa Turner
More from Bridal Guide: