5 Love Lessons From the First Year of Marriage
By bridalguide
Good news—my husband is home from his deployment in Afghanistan! Words can't describe how incredible it feels to have Michael back.
We recently celebrated a big milestone: Our first wedding anniversary. We spent this entire past year living thousands of miles apart from one another, so we encountered a few challenges that most couples will never have to face. We didn't get to talk on the phone as often as we would have liked, and I only saw a pixelated version of his face a handful of times. In fact, the two weeks we spent together in the middle of his deployment was the longest time we'd seen each other in person since we got engaged. I'll admit—it was rough celebrating our first anniversary with a phone call, but knowing that we'd get to spend our lives together as soon as he got back made it all worth it.
Related: 10 Marriage Firsts Every Newlywed Experiences
Even though we were halfway around the world from each other, we still learned some valuable lessons about marriage: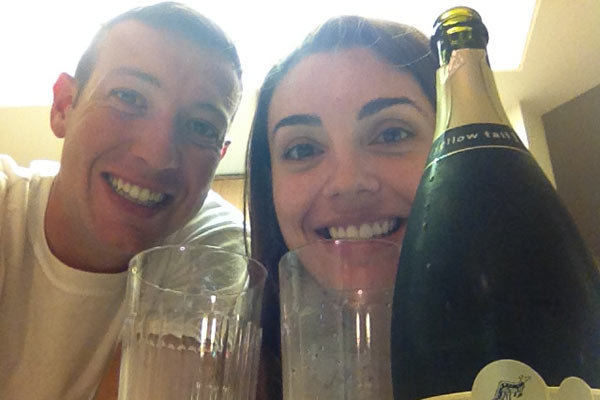 Toasting to our first night in our new place!
Be Understanding
If you think it's hard to get your husband to open up now, try sticking him in a room with 10 other Army dudes in a warzone, where sharing his deepest thoughts isn't high on his priority list. He managed to be sweet during most of the times that we spoke, but it was difficult to have stifled conversations with a two-second delay.
On the bright side, this made arguing nearly impossible. It takes so much time and energy to argue over the phone that we tried our best not to bicker. Plus, what's really worth fighting over if you're happy your partner is alive and well? It wasn't always easy, though. I worked hard not to take certain things personally or to hold my tongue when I was upset. I'm hoping this attitude will carry over, even after we spend every day together.
Be Quick to Listen, Slow to Speak
I learned this rule the hard way. After writing lengthy messages on Facebook about how upset I was, whenever I was feeling distraught, only to follow up with a long-winded apology, I forced myself to simply not write anything in the first place. I'd recommend not texting anything in the heat of the moment (too tempting). Wait it out so that you can approach the issue to your spouse in a more productive way.
You Don't Have to Share Everything
Now that Michael's back, we can spend hours talking about the most random stuff on the planet. But while he was in Afghanistan, our limited time slots forced us to be direct and focus on things that actually mattered. I learned to keep some stuff to myself that I could tell put my husband to sleep (friendship drama and shopping adventures included).