Jessica Simpson Is Engaged To Eric Johnson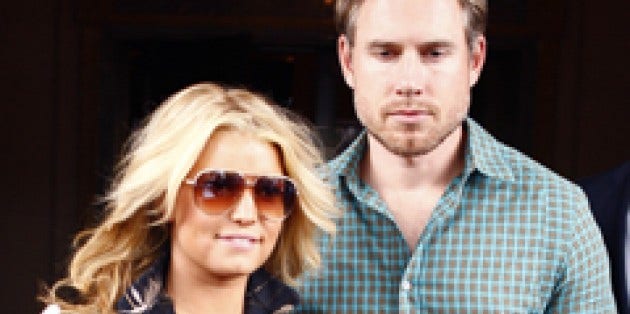 Days after Nick Lachey announces his engagement, Jessica gets engaged too! Who will wed first?
In Jessica's defense, she does seem to have learned from past mistakes and hasn't gushed about Johnson to the press the way she did with Romo. People.com reported that when Simpson was asked if Johnson was the one, she said, "I'm not gonna jinx my own self. He's the one for me right now! I'm very happy, I'm in a great place, and if right now could last forever, I'd take it."
But, here's the thing: Eric hasn't been officially single for more than a month, and if he and Jess are truly in love, don't they have their whole lives to be together? So why the rush to announce the engagement? Especially after Nick just announced his? Is Jessica Simpson Pregnant? Or Just A Tad Pudgy?
If Jess' publicist were smart, he or she would have advised the couple to keep their betrothal under wraps, at least for now. It would have only made sense, especially considering the timing and the fact that Jess and Eric have already taken one trip down the wedding aisle before. You would think they could have kept the news of their engagement between them and a few close family and friends, at least for a little while longer. But that's the thing about rushed relationships and engagements: there's usually some other agenda at stake. And, in this case, it seems kind of obvious that Jessica wanted to dispell any talk that she was sad about Nick's happy news. Nick Lachey & Vanessa Minnillo Are Engaged!
Even if Jessica and Eric really are soulmates and were planning on getting engaged prior to Nick's announcement, something about the timing of this engagement smells fishy—and not just the Chicken-of-the-Sea kind.
Photo Credit: INF