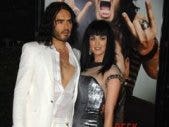 Katy may claim to be a tiger in bed, but her honeymoon was reportedly sex-free.
But hey, maybe not having sex on your honeymoon (and getting sued) is like rain on your wedding day—good luck for the marriage but majorily sucky at the time. Let's just hope that Katy's rash heals fast, so she can go back to wowing Russell with her sexual prowess. Otherwise, this completely weird, but surprisingly adorable couple might be headed for a Tiger-style sex scandal. 'Cause we're gonna assume that Brand is not going to be able to stay celibate for two months (one month is like a world record for him)!
Photo Credit: INF
More from YourTango: On-Screen Loves Leonardo DiCaprio & Carey Mulligan Off-Set Drama?