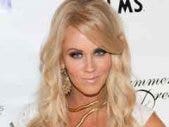 The actress can't stop talking about her break-up with Jim Carrey while she promotes her new book.
Are we the only ones starting to suspect that Jenny McCarthy was the one who started those rumors that she was getting back together with Jim Carrey? Because she has done nothing but talk about her ex and how she dumped him while she promotes her new book, Love, Lust & Faking It: The Naked Truth About Sex, Lies and True Romance.
After sitting down with Oprah to talk about the split, Jenny decided to mix things up and go on Larry King Live to talk about her new boyfriend, Jason Toohey, who, as the Daily Mail points out, is not a celebrity and, consequently, much less interesting. Jenny McCarthy Talks Jim Carrey With Oprah
More from YourTango: Which 'Looking' Character Has The Biggest Penis Size? No, Really
"He owns an eye-mask company called Eyedews," she said of Jason's accomplishments. "It's better than Botox and only costs $10!" (Jim Carrey is a Golden Globe winner, but, you know, how can that compare to inventing a Botox alternative, especially in the mind of an aging, 37-year-old former Playmate?)
Jenny also admitted that she's not in any rush to settle down again:
"I'm not planning on moving in or running down the aisle," she said. "I am calling it very light
dating
, nothing too serious, just kind of gliding. I'm just not double-dipping, I'm exclusive."
Jim Carrey & Jenny McCarthy Are Working It Out
Our verdict: Pimping out your ex, whom you reportedly dumped, to promote your book is in bad taste, even worse than talking about how hairy your hoo-ha is on Oprah. And, on that note, how does Jenny McCarthy expect anyone to take her seriously as an activist mother of an autisic child when she simultaneously gives quotes about how horny she is? Sorry, but you can't have it both ways, Jenny. (Even if you claim to go both ways.)
More from YourTango: Vote For The Next Bachelorette & Enter To Win A Fabulous Prize!
Photo Credit: INF
Check out our redesigned Facebook page for exclusive content, gifts and more: www.bit.ly/YourTangoFacebook