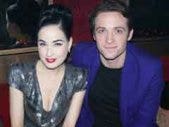 Count Louis-Marie de Castelbajac is definitely a trade-up from Marilyn Manson.
If we had to pick a modern day Cinderella, it would have to be Dita Von Teese. Since divorcing Marilyn Manson in 2006 and imposing a "no musicians" ban on her love life, the Michigan native has moved to Paris and landed herself a prince! Well, actually, he's a French count named Louis Marie de Castelbajac but close enough.
According to Celebitchy.com, the two have been dating for over a year and are still going strong, showing up together this past weekend at several Paris Fashion Week events. And despite their age difference, the 38-year-old burlesque star recently gushed to Britain's Daily Express how her 26-year-old French boytoy treats her like a princess! Dita Von Teese Likes Sex, Nice Guys In Sweaters
More from YourTango: Idris Elba Is A Dad Again!
"I'm in shock that someone could treat me so well. I was used to people hurling things at me in the middle of the night in a cocaine rage," she said. "This man took me to his family's castle, he cooked for me there and I was so completely wooed that I couldn't speak for days afterwards. I was stunned into silence."
How dreamy! With her enviable retro wardrobe and handsome boyfriend, it seems like Dita has finally gotten her happily ever after. (We just hope that the Count likes pink kitchen appliances!)
More from YourTango: 'Game Of Thrones' Season 4 Spoilers: Is Tyrion The Murderer?
Photo Credit: INF
Check out our redesigned Facebook page for exclusive content, gifts and more: www.bit.ly/YourTangoFacebook