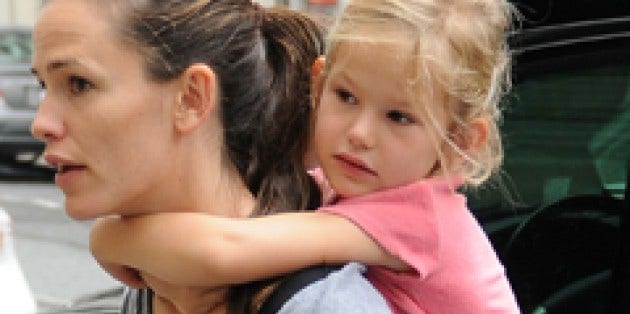 These celebrity moms make having it all look easy and glam.
4. Katie Holmes - Katie Holmes has gotten a lot of flack in the mommy blogger world for allowing her 4-year-old daughter, Suri Cruise, to wear high heels and lipstick, but we like the fact that Katie hasn't bowed to online criticism and allows Suri, who is a fashionista in the making, to pick out her own clothes. Katie also makes sure that she spends quality time with her daughter, even while she is working on a movie, by bringing her to the set.
"When I'm working, I feel like 'Wow, this is so magical I get to share this with you, and you give me so much.' It's really fun," Katie said to US about having Suri around. "Everyone brings their kids and we do play dates there and paint pottery," she said. "There's always like a million things going on at once and you just do it!"

5. Gwen Stefani - Compared to some other rocker moms we can think of (Ahem, Courtney Love), Gwen Stefani is practically mother of the year!
"Now I'm a wife and a mother of two. It's a really different role," Gwen said to Elle last year about how her life has changed since having sons Kingston, 4, and Zuma, 2. "My priorities are always going to be my husband and my family now. That's a huge, huge thing."
Still, the singer is the first one to admit that having it all can be difficult at times:
"I think it's very hard for women to get the balance right. It's difficult and I struggle with it, but just when I think my plate is a little too full, Gavin comes to the rescue and the next thing you know, it all works out." Gwen Stefani, Gavin Rossdale Look Happy At US Open
6. Sandra Bullock - Sandra Bullock was already a mother before she officially became one. Although her marriage to Jesse James crumbled earlier this year, after reports of his infidelities became public, Sandra still spends time with Sunny, Jesse's 6-year-old daughter from a previous marriage. Sunny and Sandy are evidently so tight that Jesse even moved Sunny to Austin, away from her biological mom, just so Sunny could be closer to Sandra.
In addition, Sandra now has a baby of her own as well, an adopted son named Louie, whom she calls her "Little Cajun Cookie."
7. Demi Moore - If there was a role model for how to create a happy, blended family, it would be Demi Moore! Instead of resenting each other, exes Demi Moore and Bruce Willis are good friends and even go on vacations together with their kids and new spouses!
"It's hard for people to understand but we go on holidays together. Demi is the mother of my children and Ashton is the stepfather... I'm thrilled that Ashton turned out to be such a great guy," explained Bruce, who even invited Demi and Ashton to his wedding last year to model Emma Hemming.
As for Bruce and Demi's three daughters, Rumor, Scout and Tallulah Belle, they reportedly get along famously with their step-parents and even call Ashton "MOD," short for "my other dad."