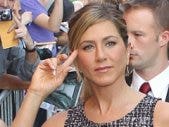 And her rumored boyfriend, John Mayer, doesn't want to be associated with her. That's got to hurt.
It's safe to say that Jennifer Aniston's public image has taken a beating in the press recently. After seeing previews of her newest film, The Switch, we couldn't help but wonder, "Why do people keep letting this woman star in movies?"
While Jennifer was amusing as part of an ensemble cast on Friends, she's a terrible movie actress, and the majority of the movies she's made have been both commercial and critical failures. (Say what you want about man-stealer Angelina Jolie, but at least she has enough acting chops to deserve her movie star status, not to mention an Oscar win.)
More from YourTango: Cheating Scandal! The Story Behind Google's Real Life Soap Opera
Over on Celebitchy.com, ESPN analyst Bill Simmons has some choice things to say about the future of Jen's career. Comparing her to retired sports stars like Karl Malone and Charles Barkley, Simmons claims that the only reason Jennifer even has a post-Friends career is because of the love triangle and subsequent tabloid drama that has kept her on magazine covers ever since Brad Pitt and Angelina Jolie met on the set of Mr. and Mrs. Smith. Who Is Jennifer Aniston Dating?
"People can't get enough of this stuff. Us Weekly throws Aniston on its cover every few weeks — and if they can work Angelina into the split-cover, even better — just because Aniston resonates with women like no other celebrity. No matter how wealthy or famous or good-looking she is, the nuts and bolts of Aniston's 'tragic' story could have happened to anyone: She lost her scummy husband to a seductive co-worker. Maybe it was the worst thing that ever happened to her personally, but professionally? Godsend. She became America's adorable little victim for seven years until Bullock finally pushed her aside. People don't read Us Weekly to see pictures of happily married couples. They read for drama. Tragedy. Betrayal. Acrimony. They read to see someone's life spinning out of control, or to compare two people wearing the same dress, or to see someone taking out the garbage who's 'just like us.'"

More from YourTango: Aww! Philip Wheeler Defends His Girlfriend's Breastfeeding Selfie
Simmons goes on to point out that Jennifer purposely gravitates towards guys that could never really work-out in the long run. (i.e. John Mayer.)
"Staying single, ending up with the wrong guys, pining for a baby but never having one … career move, career move, career move. Keeps her on magazine covers. Keeps people saying 'I feel bad for Aniston, Brangelina really screwed her over; her life's never been the same.' Keeps a built-in publicity buzz for every crappy movie she promotes. Really, it's genius," says Simmons. Jennifer Aniston, Single Girl Poster Child